First of all, let me start by warning you that the song,
I Think We're Alone Now
, has suddenly materialized in my brain (much to my chagrin) and so my thought processes may not be clear and I hope Debbie Gibson doesn't suddenly show up anywhere else in this post.
Secondly,... Hurrah! Nephew Bug's quilt is done. It is in the washing machine as we speak and just needs to be dried, pressed and wrapped. After all my talk about how much I wasn't liking the way this quilt was starting to look, I can say now that it has grown on me and I don't think it looks too bad. I so look forward to how I feel when I've finished making a quilt. The feeling of completion. I don't get that feeling from most of the things I do. Laundry, cleaning house, changing diapers, feeding, dressing and caring for four children. These things need constant upkeep. Doing them once doesn't mean that they're "done". It only means that I can look forward to having to do it all again tomorrow or next week or in the next 3 and a half minutes. But putting together a quilt and giving it to someone I love - this has closure.
Is there something you do that you get this feeling of "Aahhh. It's done." from? Tell me; I want to know what your "thing" is.
I love quilts. I love the puckers from hand quilting. It looks so soft and inviting.
The back of the quilt. I used red quilting thread. I like using a contrasting color now and then instead of traditional white on white. Yeah, that's me; livin' on the edge.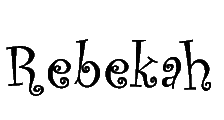 Uh oh! There she is.
UPDATE: I stand corrected. It was Tiffany who sang
I Think We're Alone Now
. So here's a picture of the person who
actually
sang that song. I considered posting her Playboy cover shot but thought better of it. ; ) Look how much you learn from my blog - quilting and Useless 80's Music Trivia all in one place!